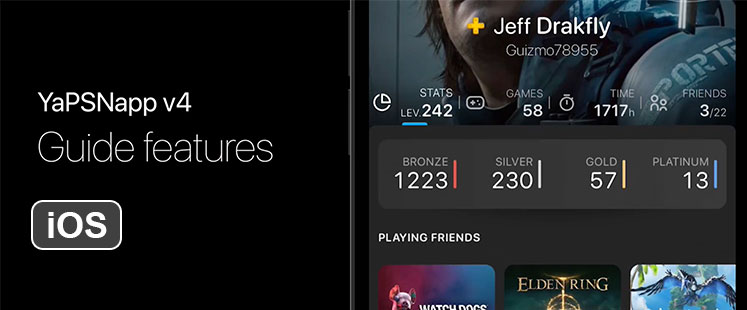 It's been a long time since I communicated on the iOS v4 progress. The redesign takes time, especially because depending on the week, I can't always devote the necessary time to it, but I'm quite proud of what I've finished on the new trophy guides features.
The next version will be very oriented to trophy hunters and that's why the trophy guide part has been greatly improved, it was a lot of work, a real app in an app … I'll let you watch and give me your impressions and ideas in comments.
(You can watch the video in landscape mode with the explanations, but if you're on mobile and you can't see the app correctly, switch the video to 720p (360p by default) and "double tap" on the video, to focus the action)
And other features ?
I have still a lot of work on this version, at this stage, the missing features / screen are:
Connected profiles detailed statistics (Main screen and tabs are implemented, but not yet the sub-screens)
Messages / Notification Tab (and all associated screens)
Advisor tab (and all associated screens)
Games database tab (and all associated screens)
THE iPAD VERSION :'(
Don't ask for a release date
At this stage, I have no idea when this version will be released, but I expect to communicate more often on it. When an iso functional version (all features of v3) will be ready I will post a blog ticket for alpha / beta testers recruitment.